It gives me great pleasure to post a guest article on Selfsustainable. This is an extremely well researched article by Danie Olivier from Mossel Bay. With so little information readily available on this uniquely South African bean, Danie wanted to know more and set about investigating the history of this unique bean. Below is the result of months of work, Thank you Danie.
The Hereboontjie
Have you ever heard of the Hereboontjie (directly translated as "Lord's Bean"), a flat white bean with a black marking above the hilum (the place where the seed is attached to the pod)? It is an unnamed variety of Phaseolus lunatus, and our very own authentic South African Lima bean, an Heirloom variety, that is still cultivated mainly the Sandveld, and a few other areas in the Western Cape. The first record of this bean in Afrikaans was by Pannevis (1880) in the form Heerenboontjie and in the Patriotwoordeboek (1902) in the form Heerboontjiis. The Entimologiewoordeboek van Afrikaans says that the name comes from Netherlands, in the form Herenboon.
In 1963, Dr. C. Louis Leipoldt already said: "It would be hard to find something more genuinely Afrikaans in a vegetable garden than the good old Goewerneursboontjie, or Hereboontjie, as it is also called." Till this day it is still regarded by many as the aristocrat of beans.
Where does the name come from?
Through the years a number of stories were handed down as to where this white bean received its name. Looking at all the different sources there also does not seem to be consensus about the origin of the name. Listed below are all the stories I found during my research.
The first story is one that I have heard a couple of times, and to me it sounds the closest to the truth. The story goes that the Hereboontjie was named after Jan van Riebeeck who was the "Here van die Kaap" from 1652-1662. Reportedly, this bean was first introduced to the Cape by the Here XVII, thus it indeed has a long history in South Africa. It is also believed that each year Van Riebeeck sent some of these beans to "The Queen" as it was the only bean "She" would eat. Die queen in question is unknown, because at the time King William III was too young to marry and there was no royal family on the throne in the Netherlands.They were ruled by stadholders and not royalty during this time in history.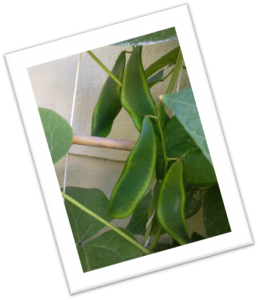 The second story comes from the Sandveld. Goewerneursboontjie, directly translated as Governor's Bean, is the common name that the famers here use for the Hereboontjie. According to them this name was recorded by governor Simon van der Stel who first imported these beans to the Cape. Others suggest that the farmers of that time had to surrender a portion of their harvest to the governor as harvest tax, and that this is where the name Governor's bean originated.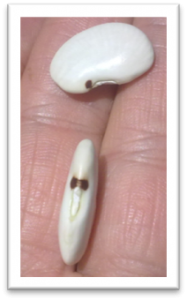 Thirdly there are a few people who suggest the name Governor's bean is derived from the feudal system that might have ruled in the Sandveld during earlier times. This system has a landlord that made land available to farmers who then farmed according to an agreed share. When harvest time came, it could then be said: "Remember the lord's beans", hence Lord's Beans or Hereboontjie.
This bean is also lesser known as the Sewejaarsboontjie or Seven-year bean, because it is perennial. Unlike other beans some Lima beans have deep thick perennial roots from which the plant grows in subsequent seasons. Here in South Africa it is normally grown as an annual because the plant does not survive the very cold and frost of our winters. Only in the tropics like Central- and South America it grows as a true perennial.
Anelia Marais from Elsenburg wrote in her letter to Die Burger on 23 June 2001, that a very old dictionary recorded the name as 'civet bean', but that none of the farmers in the Sandveld know this name. I did some research and found that the civet or sieva bean is indeed a Lima bean which has seeds much smaller than the normal Lima- or Butter bean. This corresponds with the Hereboontjie which has smaller seeds.
Lastly there is a beautiful quote that I am in including. Riana Scheepers wrote the following in here column Plotseling in Die Burger about the Hereboontjie: "I do not know where this bean got its name, but if I could guess, it is because the Lords grace abundantly rests upon it.He grows only where others gave up long ago: in the thinnest weakest soil imaginable. But when after vining up and ripening it reaches the other side, it is a beautiful thing. Something that makes connoisseurs sing odes."
Another story comes from the very same Sandveld. It is said that since the first British occupation every year two bags (streepsakke) of Hereboontjies were sent to Buckingham Palace for the royal family's personal use. These beans is believed to come from the Langfontein farm between Aurora and Redelinghuis.
Evita Bezuidehout calls them"Bloubloedboontjies." i.e. Royal Beans
Other interesting facts.
For the proud people of the Sandveld region there is one relentless test for a bride who wants to wed into the family, and that is how well you can prepare Hereboontjies. Will you honour your Hereboontjies, treating them with care and respect? only then are you a good wife.
Some people of European descent are allergic to Lima beans because of an genetic mutation that occurred at the time when that beans were first introduced to this part of the world.
According to Leipoldt, the Hereboontjie is not the one with the black patch we know, but beans beautifully coloured like Amandola marble with hues of black-brown, red, white and yellow colours. He also says: "It is true, we currently seldom find the goewerneursboontjie in its original grandeur, and that it is also becoming smaller, more wrinkled and less colourful. There is even pale-yellow and off-white descendants, South American varieties with a less flavourful taste which are not nearly as aesthetically pleasing to the eye."
In 2001, Mrs S. Coetzee from Bothasig in Cape Town, wrote in a letter to Die Burger in which she mentions that here parents (De Beer) moved to the Kromland farm near Graafwater in the Clainwilliam district. She was five years old at the time. Her parents cultivated Hereboontjies which was mottled with purple speckles. The beans are planted in September and ripen toward March. Pods are harvested by hand and thrown in bags until completely dry. Thereafter the beans are beaten out or shelled by hand, a job that was always given to the children. All the broken beans were thrown out.
From the above paragraphs we can clearly see that there are a number of Hereboontjie varieties which are different to the one we know. I could not find any pictures or information on what these other beans look like, but it falls in line with the dictionary definition.
Cultivation
Today Hereboontjies are primarily cultivated in the Sandveld. They are common between Elands Bay and Lamberts Bay as well as around Aurora and Redelinghuys, Sandfontein and Piketberg. There is also a belief among some people that Hereboontjies can only be cultivated here, but this is not true. Apparently they can grow anywhere, needing only sandy soil and fresh water. I have also read about Hereboontijes being cultivated at Riebeeck-Kasteel, Onrus and Graafwater, but I am not sure of the scale.
Hereboontjies prefer poor, moist, slightly acidic, sandy loam. It is sensitive to high pH levels, hence it grows so well in the Sandveld. It likes flood irrigation and grows well in unfertilised soil. For this reason it holds good potential for organic gardening.
Hereboontjies are rarely bothered by insects and diseases, and the reason seems to be the natural cyanide content of the plant. The green plant material contains cyanide, while the dried plant material contains none or almost none cyanide, hence it is only used as a dry shell bean.
Because the uneven ripening of pods makes mechanical harvesting difficult, this task is accomplished mostly by hand.
At Elsenburg 60 plants were planted in an area of about 300m. No fertiliser were used and the plants depended on what remained in the ground from the previous season. Drip irrigation was applied at 8 litres per plant per week. After being shelled and sorted, the yield was 15kg of dry beans. (about 5 t/ha), which is in accordance with yield numbers of the Sandveld.
It appears that animals also benefit from the plant ,and commonly eats the dry plant remains after the harvest. The dry material (pods, stems and leaves) were analysed by the animal production laboratories and tested for various nutritional elements. The results are as follows:
Total Digestible Nutritional Material             61.68
Raw Protein                                                              15,06
Fibre                                                                             32.56%
Fat                                                                                 2,51%
In Vitro Organic Material Digestibility          67,02
Origin of the Lima Bean
Lima beans are one of the seven Phaseolus species that all originate from Central- and South America.
Some sources indicate the bean's other names as Madagascar- or Birma-bean even though it does not come from there at all. There is however a Madagascar Lima bean that is another rare African heirloom. Source Website
According to Zven & De Wet's Dictionary of cultivated plants and their regions of diversity, Pudoc 1982, Netherlands, the origin is Central America particularly the Andes mountains (from Peru to Argentina).
According to these writers the Lima bean can be divided into three main variety groups: