Here is a new product for those of you interested in hydroponics. I know we have a few clients that use hydroponic techniques with our seeds. This is not a system that we use, however the feedback that I have received has been good.
On my personal quest to make a difference in this life, I have been seeking ways to be more self-sufficient and to reduce my carbon footprint, and that of my family. The Lord has guided all this, in my opinion, as I have inadvertently ended up on paths that in the past, I've had no interest. It all started with me working for a waste management company, and then starting my own waste management company. From there I have seen a need in various arena, be it environmental, social etc.
We started a sports programme for the local community, whereby we have built an indoor skate-park for the youth to make use of, keeping them off the streets and out of trouble. The park is free, and open to anyone who follows the rules. http://www.bincleansa.co.za/sport-and-recreation/
In addition to this, we have also initiated a reward system with staff at our waste company, where by selected staff are supplied with the necessary containers, seeds and knowledge to grow their own vegetables at home.
http://www.bincleansa.co.za/sustainable-living/
We also saw the need to reduce our carbon footprint on a personal level, by recycling as much as possible, be it, home, work, composting, vermicomposting etc. We started growing our own greens, trial and error, and also built a chicken coop for 4 chickens to provide for our daily eggs. This eventually led me to aqua-ponics and then hydroponics. I moved from aqua to hydroponics as I made a careless error of disconnecting my greenhouse power this year when we went to the Midmar for the mile. I though I was switching off the Mac and printers etc. but lo and behold, it was all power to the greenhouse. We returned 4 days later to dead plants, dead fish and the most awful smell. After paranoidly flushing the fish tank /reservoir, I changed over to hydroponics. My then systems were NFT made from 110mm drain pipes and ebb and flow system made from 210lt plastic drums cut in half.
To my amazement, 6mnths later, and the earthworms I had living in the hydroball grow medium in the aquaponics system are still alive in the now hydroponics system. This is all good, as they digest the old root systems in the grow media.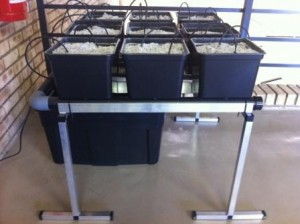 But through all of this, with a keen sense of enjoyment, I was quite frustrated, as one could not purchase a complete hydroponics active system in SA, at a reasonable rate. Just recently I sourced a supplier, but their system, as good as it seems, is based on NFT with a shallow grow bed, and in my opinion, would not be adequate for big root crops, like tomatoes, cucumbers etc. I found a niche and wanted to fill it. So out of that, I have considered many avenues and ideas and concepts, and settled on the "Hydro-Patch". This is a recirculating top drip system, based on Hollands commercial greenhouse technology. I started designing and sourcing, trial and error and finally had what I was after. A reasonably priced, aesthetically acceptable, versatile hydroponic system that could be used in small or large spaces, indoors or outdoors, summer or winter. The unit is a 1m2, 9 pot system, but the limitations are down to the purchasers imagination. We can custom make them in 18 and 27 pot systems, with standardized frames for staking vining crops, or to cover with plastic to use as a mini greenhouse to extend the growing season. Should the budget be limited, we have cost effective ideas to build the frames, which are freely given on request.
I feel that we have successfully built a versatile product for a niche market, that will enable people to contribute towards a better tomorrow. The advantage of hydroponics are endless, and yes, sometimes it is fun to get your hands dirty, but we can still get all dirty by growing potatoes, carrots etc in soil. Yes it can be grown in hydroponics too, but why only have your cake, when you can eat it too?
Should you be interested in the unit, or accessories, watch for our upcoming web site www.hydro-patch.co.za or find us on Face book, under Hydro Patch.
I can also be contacted on 082 903 6068 / 011 664 7581