I've had a number of requests on what the best way to plant your seeds are. So here's a quick planting guide.
Most seeds get planted in late winter into cell trays, and then get put into a cold-frame to help them germinate. The reason for this is to ensure that each seed gets the best chance at germinating. Generally we will only plant 5 or maybe ten seeds of each variety and then transplant the resulting seedlings into a bed once they have pushed out two true leaves. The varieties that gain the most from this treatment are tomatoes, peppers and brinjals.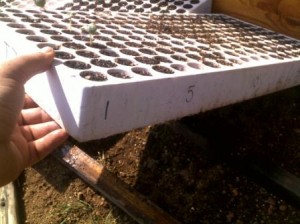 All of these have slower germination times and can take up to 14 or even 21 days to show any movement. They also require at soil temp of at least 17 deg before anything will happen. There are a few tricks that you can use to speed up and ensure better germination, one trick is to cover the seedlings with an old electric blanket or alternatively if you have under floor heating place the seed trays directly onto your floor. Basically what you are trying to do is to give them an even sustained heat so that you can assist with the germination of your seeds. Our Brassicas are also planted into cell trays to give them the best chance at germination.
We use a simple numbering system where each tray is numbered, and then every 5 cells are numbered, this way we can keep track of whats planted in each row with a planting diary. It also give you a good way to track your germination rates.
For larger seeds like pumpkins, melons and cucumbers, you have a few choices, first you can plant them into pots and treat them just like the cell trays or you can wait until the soil has warmed up and plant them straight outside into their beds.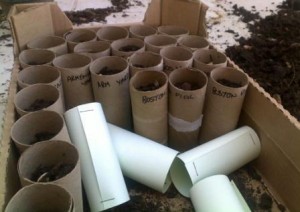 Root crops like carrots, beetroot and onions get planted straight into the beds where they are to grow, of the three, onions are the only ones that will forgive you for transplanting them. Carrots and beetroot should not be moved as you are sure to set them back permanently.However you mjst thin them to get the best growth
We plant our corn, peas and beans straight into the garden, and just ensure that they have adequate moisture to assist in germination.
So what's the best soil to use in your cell trays? We have a mix of commercial germination soil mixed with compost and or vermicompost. It's up to you to decide on what the best mix is for you, just make sure it's fine. We find that it's best to fill the cells just short of top so that when you water (With a fine rose/spray) you don't wash the soil and the seeds out. Once the seedlings are out it's good to give them a weekly soaking with either compost tea or 'worm wee'.
We are very much blessed with great weather in South Africa so it's not often that we will have bad frost after the 10th of September and in some area's they don't even know what frost is. So you can safely start planting out from the beginning of September. Planting out is generally best done in the morning and then following the planting with a good soak. Just make sure that the seedlings have been 'hardened off' so they are used to full sun before you transplant, otherwise they are bound to get sun-burnt.