Are you a market gardener, or are you looking at becoming a market gardener?
Market gardening is taking off at a pace that is astounding in South Africa, one can hardly believe the number of Farmers Markets and Local Produce Markets that have sprung up over the last 3-4 years.
Typically one finds that they are either an evolution of the typical Flea Market, all the way to full blown Fresh and Homemade produce markets that are supplied by Market Gardeners, small farmers or home industry type entrepreneurs. This post will focus on the market gardener and some things that you need to do, to literally stand-out from the crowd, while at the same time have your wares and name become a sought after attraction at your local farmers market.
Firstly you will need to understand who your target market will be. If you are selling at a farmers market in a low-mid income area, the chances that you can sell your high-end organic/biodynamic crops at a premium will be limited. However, if your Farmers Market is situated where higher income customers frequent, you will have a much better chance at moving your stock. That said there has simply never been a better time to be a fresh market grower and seller. These markets are thriving and customers are excited about locally grown food.  They will often brag to their guests where and how they purchased the unique tomatoes that are in the salad, or the stunning carrot/pumpkin/bean/cucumber variety that adorns their serving dishes. That bragging will bring new people to your stand, and it can only happen if you are the one that stands head and shoulders above your competition, and more importantly gets customers coming back week after week.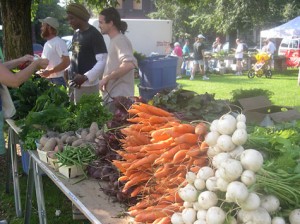 Below are a few hints/tip and suggestions that you can use to be the supplier at your local farmers market that stands out.
Specialise: Look for a gap in the market and capitalise on that gap. Are there already heirloom tomato suppliers at your local market? If there are, how can you capitalise on that? You could offer the makings of an entire salad instead and not just tomatoes. You could can your excess tomatoes into a 'sous' or braai relish. Another idea is to specialise in a crop family, like brassicas/beans/pumpkins or chillies. Chillies that are sold loose do well but if you package chillies into segmented punnets with different heat rating or similar heat ratings you will move so many more. In the off season, dried chillies or chilli products are great. Beans can be sold green and dried, speciality beans can be sold off by weight or pre-packaged. I love the sight of buckets of different dried beans that one can buy by the scoop.
Add History: If you can tell your customer about the origin or history of the particular fruit/vegetable you spark their interest, that interest makes sales. A good example would be to say that Carbon won the title of best tasting tomato in the world. Tell a story about your produce, like the Mayflower Bean was carried over to America before it became America and helped keep starvation at bay for the first pioneers.
Add Value: A free recipe card that is thrown in with their purchase for the items that they have bought will always bring a customer back… but only if the recipe is good. Try to keep the recipe simple, but it must make the dish memorable. Offer a bulk discount, one bunch of Purple Dragon Carrots for R10.00 but you can have 3 for R25.00. Or combine 3or 4 items at a special price.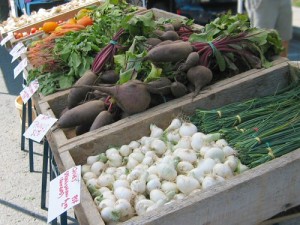 Cross Sell: Group vegetables together that would make a meal, that way customers are more inclined to buy a number of items together, see recipe idea above. If you can't group them because of your display then offer cooking suggestions with a combination of your veggies.
Banter: Talk to browsing customers and offer tasters of unusual vegetables. While a client is paying, offer cooking/eating advice that other customers can hear, that you can expand on once the paying customer has left. Combine your banter with information and how you grow your produce, tell them what's coming in a few weeks time, it all helps to sell now and bring them back later.
Stack it High: A Madeiran friend of mine says that veggies only sell if the pile is high. So don't put out a few of your veggies, stack them out and way high. It's visually appealing and helps to draw the feet… those feet need your veggies. If you have crates, fill them and then tilt the crate up so the customers will notice your amazing produce. Next time you are browsing a farmers market look at who is busiest and what their stand looks like. I can almost guarantee they have produce stacked high. If you can bring feet to your stall, others want to know why everyone is there, that's when you start selling.
Colour: Try to arrange all colours together to create a mass of individual colours, Reds together, yellows, greens etc. This is more visually appealing than a kaleidoscope of colour that tends to confuse the brain. This will also get you noticed from across the farmers market.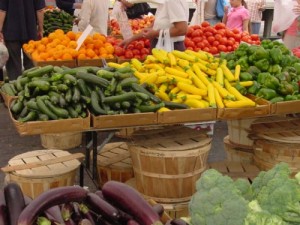 Be ahead of the pack: Try to get your new produce onto your display as early in the season as possible. If you are the first one with a particular type or cultivar at your market you start to build a loyal client base. Capitalise on this and work it. It may require you to plan ahead and invest in cold frames or tunnels. If it's worth it, do it. Also, don't drop out of the market suddenly, your clients can be very disappointed. Make sure you can supply the whole season, it need not be the same produce but your face needs to be there, with the same, new or different produce.
Mailing list: Work up a client mailing list that you can send out every Thursday/Friday with a produce list for Saturday and possible idea's that they can cook up with your produce. This will ensure that a higher number of clients are coming to your stall for your produce. You may even find over time that they will drive out to you during the week to buy straight off the farm, or you can use the newsletter to start of a box-scheme.
Quality: It goes without saying, your produce needs to look as good, if not better than the stuff at your local supermarket. It's a Farmers PRODUCE Market, not a place for you to sell soil samples and the occasional earthworm. You may think it shows freshness, your potential clients only see extra work and 'dirty' produce.
Glistening: Take a hint from the flower sellers on the street corner, mist your produce often. A spray bottle is cheap and will make your produce look so much more appetising while at the same time keeping it cool.
Signage: The little bit of effort you put into making nice signs for your produce will pay you… literally. Some hardboard, a few lengths of wood and a small tin of blackboard paint will allow you to chalk up specials and prices for your produce. Many people will walk past a stand with no prices without bothering to stop and ask.
Smile: This should go without saying, shake hands and tell them your name, this makes it a personal shopping experience for them, and helps to bring them back.